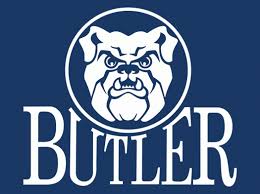 2017-18 BUTLER BULLDOGS BASKETBALL PREVIEW
HEAD COACH: LaVall Jordan, (1st season)
2016-17 RECORD: 25-9, 12-6 Big East
2016-17 POST-SEASON: Lost to North Carolina in Sweet 16
LAST NCAA TOURNAMENT MISS: 2014
FIVE-YEAR BIG EAST WINNING TREND:
2013: 11-5
2014: 4-14
2015: 12-6
2016: 10-8
2017: 12-6
KEY LOSSES:
F Andrew Chrabascz, 11.4ppg
G Tyler Lewis, 6.6ppg
G Kethan Savage, 8.0ppg
G Avery Woodson, 8.9ppg
2017 STATLINE
SCORING: 76.3
SCORING DEFENSE: 68.9
FG%: 47.7
3FG%: 36.6
EFFECTIVE FG%: 54.6
FT%: 74.1
OFFENSIVE REBOUND%: 25.5
DEFENSIVE REBOUND%: 75.2
TO MARGIN: +3.1
REBOUND MARGIN: +0.6
ASSISTS: 13.3
2017-18 SCHEDULE
October 28                        Hanover (exhibition)
November 4                      Lincoln Memorial (exhibition)
November 10                    Kennesaw State
November 12                    Princeton
November 15                    at Maryland
November 18                    Furman
November 23                    Texas at Portland, Oregon
November 24                    Duke or Portland State at Portland, Oregon
November 26                    TBA
December 2                       St. Louis
December 5                       Utah
December 9                       Youngstown State
December 16                    Purdue at Indianapolis
December 19                    Morehead State
December 21                    Western Illinois
December 27                    at Georgetown
December 30                    Villanova
January 2                           at Xavier
January 6                           Seton Hall
January 9                           at Creighton
January 12                         Marquette
January 15                         at Providence
January 20                         at DePaul
January 27                         St. John's
January 31                         at Marquette
February 3                         DePaul
February 6                         Xavier
February 10                       at Villanova
February 13                       Georgetown
February 17                       Providence
February 20                       Creighton
February 28                       at St. John's
March 3                              at Seton Hall
March 7 – 10                     Big East tournament at New York
2017 – 18 ROSTER
0 Campbell Donovan, 5'11", freshman
2 Aaron Thompson, 6'2", freshman
3 Kamar Baldwin, 6'1", sophomore
4 Tyler Wideman, 6'8", Senior
5 Paul Jorgensen, 6'2", Junior
20 Henry Baddley, 6'4", sophomore
21 Jerald Gillens-Butler, 6'4", freshman
22 Sean McDermott, 6'6", sophomore
25 Christian David, 6'6", freshman
30 Kelan Martin, 6'7", Senior
50 Joey Brunk, 6'11", sophomore
51 Nate Fowler, 6'10", Junior
TOP NEWCOMER
Aaron Thompson. Thompson is a true point guard the Bulldogs will need this season. He may step in right away to help in the greatest source of uncertainty for Butler.
BACKCOURT
This is a guard oriented basketball team returning only one, Kamar Baldwin, from the starting five. Baldwin scored more than 10ppg and was selected to the All-Big East Freshman team. His 58 steals were 8th best in Butler history. Baldwin may become the permanent shooting guard if Coach Jordan can find a point guard. Newcomer Aaron Thompson may be the answer. Thompson is a four-star point-guard from Washington, DC. Transfer Paul Jorgensen (George Washington) and Jerald Gillens-Butler could also be possibilities. Christian David is listed as a guard, but will also play at forward. In all, there are six guards looking for playing time this season at both guard positions.
FRONTCOUNT
Kelan Martin made second-team All-Big East and was the Bulldogs' leading scorer. Coach Jordan will need even more from Martin and Center Tyler Wideman if Butler plans on making a run at a Big East title. Jordan and Wideman will also need to show more leadership as seniors. Martin came off the bench over the final nine games of last season and averaged almost 18ppg and shot 50% (41%-3's). Wideman is a defensive presence with 26 blocks last season (90 in career). Coach Jordan is looking for Wideman to increase his scoring and rebounding averages this season. 6'10" forward Nate Fowler was one of the most effective offensive players in the country, in limited minutes. Fowler shot 68% from the field and nearly 48% from 3-point range. Coach Jordan will also have Christian David, Sean McDermott and Henry Baddley looking for playing time. David was the top Canadian prospect in 2017 before injuring his ACL in 2016. Sophomore Joey Brunk (6'11") was an Indiana All-Star (Southport) and played only seven games before leaving to attend to his father who was ill.
FINAL OUTLOOK:
Butler has produced 18-"20" win seasons in the last 21 years. Coach Jordan has a squad that has the ability to defend, which has been a trademark of Butler basketball. They will be versatile, physical and very mobile, the way Jordan played at Butler.
The Bulldogs had their highest Big-East finish last season (2nd). Matching that finish won't be an easy one. The non-conference schedule will feature basketball powers Maryland, Purdue, Texas and perhaps Duke in the PK80 Invitational, all on the road.
Butler deserves respect from the college basketball world. They were picked 6th in the conference last season and finished 2nd. Don't be surprised if they show the doubters the "Butler" way ends in the NCAA tournament again.