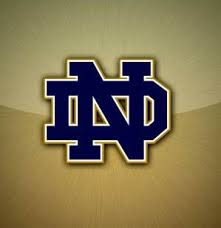 NOTRE DAME VS. VANDERBILT NOTES
NOTRE DAME SPORTS INFORAMTION
VANDY RETURNS TO ND STADIUM • Saturday's game marks the third matchup between Notre Dame and Vanderbilt on the gridiron, with the Irish leading the all-time series against the Commodores 2-0. • The showdown between the Irish and Commodores is the 48th meeting pitting Notre Dame against a current member of the Southeastern Conference ranks. The Irish are 11-7 (.611) at home against SEC foes all-time, with Vanderbilt making its second visit to Notre Dame Stadium. Notre Dame downed the Commodores 41-0 on Sept. 16, 1995. • Notre Dame is playing an SEC team in the regular season for just the second time since 2005. Georgia was victorious in a 20-19 decision on Sept. 9, 2017, on its way to reaching the College Football Playoff. It was a different story for Notre Dame on Nov. 5, 2005, when the Irish took down Tennessee, 41-21. Brady Quinn was 20-for-33 for 295 yards and three touchdowns against the Volunteers as the Irish won their second of five straight to cap the regular season and earn a berth in the Fiesta Bowl. • The Irish have played 10 of the 14 schools in the SEC, although meetings with Missouri and Texas A&M have all come prior to those school's respective SEC membership. • All-time, Notre Dame is 28-18* against the current SEC membership, highlighted by a 5-1* record against Alabama. LSU (7-5 in 12 meetings) and Tennessee (4-4 in eight games) are the most common Irish opponents from the SEC. • The Irish have played four SEC opponents in postseason action since that 2005 game with Tennessee. Notre Dame fell to LSU in the 2007 Sugar Bowl and Alabama in the 2012 BCS National Championship Game, but won its most recent contests with an SEC foe by downing LSU in the 2014 Music City Bowl and the 2018 Citrus Bowl. • Notre Dame has announced upcoming series with three different SEC members. The Irish will play Arkansas in 2020 and 2025, Texas A&M in 2024 and 2025 and Alabama in 2028 and 2029.
IRISH OUTLAST BALL STATE • Notre Dame turned aside a game Ball State side on Saturday at Notre Dame Stadium, leading throughout on its way to a 24-16 victory over the Cardinals. • The Irish improved to 7-0 in all-time meetings with Mid-American Conference foes, posting a 1-0 mark against Akron, a 2-0 record versus Miami (Ohio) and a 3-0 historical record against Western Michigan along with Saturday's win over Ball State. • Notre Dame welcomed the 78th different foe to Notre Dame Stadium when it faced off with Ball State. The Irish improved to 60-15-1* (.796) against first-time visitors to the stadium since it opened in 1930. • The Notre Dame defense forced Ball State into 23 attempts on third down, the most for an Irish opponent in a single game since at least 1996. Ball State converted 8-of-23 tries (.348) on third down for the game. • Following Ball State's scoring drive of 85 yards in 19 plays on its first offensive possession, Notre Dame held the Cardinals to just 36 total yards over their next 19 offensive plays from scrimmage and just 264 total yards (3.4 yards per play) for the remainder of the game.
IRISH REMAIN IN THE NATIONAL TOP 10 • For the second straight week, Notre Dame remained ranked among the 25 best teams in the nation according to both the Associated Press and the Amway Coaches polls by checking in slotted eighth in both polls following the 24-16 win over Ball State. • As of Sept. 9, Notre Dame is one of 11 different teams that remain undefeated across the top 10 of both national polls, but is one of only four teams in that group to have faced and defeated a top-25 foe thus far this season. Along with Notre Dame's triumph over then No. 14 Michigan, then No. 9 Auburn downed No. 6 Washington in the season's opening weekend. No. 9 Stanford won a big Pac-12 matchup with No. 17/12 USC and No. 3 Georgia got past SEC foe No. 24 South Carolina in week two.
BACK TO A TRADITIONAL 2:30 PM KICK • Throughout much of the 1990s and 2000s at Notre Dame Stadium, and specifically since the introduction of Notre Dame's exclusive broadcast relationship with NBC, fans could regularly count on catching Irish home football games beginning at 2:30 p.m. ET every fall. • Saturday's matchup with Vanderbilt marks the first 2:30 p.m. kickoff time at Notre Dame Stadium since Nov. 13, 2010, when the Irish trounced No. 15 Utah 28-3 in front of a capacity crowd of 80,795. • Kickoff times at Notre Dame Stadium especially for September and October games starting with the third Notre Dame football season on NBC, but ultimately stretching into November as well in later years, were often set for 2:30 p.m. from 1993 all the way until the showdown with Utah in 2010. • Since 1993, Notre Dame is 47-23 (.671) inside Notre Dame Stadium when kickoff is slated for 2:30 p.m. on NBC. The Irish have posted an undefeated mark in 2:30 p.m. home starts during that span in five different seasons: 1993 (5-0), 1998 (5-0), 1999 (4-0), 2005 (3-0) and 2006 (5-0). • The Vanderbilt game is the first of two slated 2:30 p.m. starts this season at Notre Dame Stadium. The Irish and Pittsburgh will clash on Oct. 13 at that time, broadcast internationally on NBC.
IRISH DEFENSE HOLDS STRONG AGAINST BALL STATE ATTACK • Ball State made a memorable first appearance at Notre Dame Stadium last Saturday on offense, running 97 total plays from scrimmage against the Irish defense. • According to Blue & Gold Illustrated, the 97 defensive snaps for Notre Dame were the most during a single game in program history. It broke the previous mark of 95 set against Stanford in its 1994 game with Notre Dame, which wound up being a 35-14 Irish victory. • Despite Ball State's 97 plays and 34:22 of possession time, the Cardinals only managed 16 points and 349 yards of total offense. The 3.6 yards per play average of the Cardinals tied for the fifth-fewest average yards from scrimmage allowed by Notre Dame since 1996, and was far and away the fewest average yards gained by an opponent who ran more than 60 offensive plays in that span.